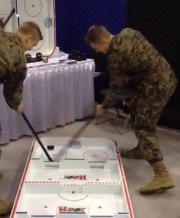 International Sports Corporation, the makers of the H-Box® Pro box hockey game, is pleased to announce a discount for the 2015 Christmas purchase season for active United States military personnel.
Las Vegas, Nevada, November 2, 2015 (Newswire.com) - International Sports Corporation, makers of the H-Box® box hockey game and hockey training aid, today announced a special purchase program for active members of the United States military. In order to qualify for the discount the shipping address must be to an active United States military base in the continental U.S., Hawaii or Alaska.
Further information is available on the company's web site at http://www.hboxhockey.com/2015-active-military-discount/.
It came to our attention recently that our web site is being viewed on a fairly regular basis by members of the armed forces, far outstripping the number of shipments to military bases. We want to recognize the commitment our military personnel make and this discount program is one way in which we can do that.

Robert Heller, CEO
The H-Box® Pro box hockey game is widely used by hockey schools, NHL® teams, schools, recreation and parks facilities in Canada and the United States. H-Box® recently sponsored the World Air Hockey Championships which was held in Houston Texas where significant interest in the product was shown by the contestants who came from around the world to compete.
Box hockey is a fun, competitive, activity that has been around since the late 1800s with tournaments being arranged between teams in Canada and the United States. Box hockey products have been manufactured in prior years by companies like Milton Bradley and a mass produced version was sold at one time by Sears Roebuck stores.
Today, box hockey is seeing a significant resurgence in interest which appears to be proportionate to the increasing interest in the NHL® Ice Hockey teams.
Share: