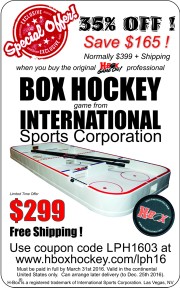 After three straight years of attending the Minnesota Boys High School Hockey tournament in St. Paul, Minnesota, International Sports Corporation, the manufacturers of the original box hockey game known as H-Box® is announcing we will not be attending for 2016. In addition, we are passing on the cost savings to customers in a special, one time, discount program.
Las Vegas, Nevada, March 4, 2016 (Newswire.com) - For the past four years International Sports Corporation has attended the Let's Play Hockey Expo held at the St. Paul Riverside Center in conjunction with the Minnesota Boys High School Hockey Tournament. This has been a very successful event for the company to the point that the company has developed a significant level of interest in the H-Box®.
H-Box®, the original, and only, box hockey product with round corners and played with a real puck, sales have been doubling year over year for since first attending Let's Play Hockey Expo and the company is very pleased to inform hockey players and fans that business prohibits our ability to attend this year's show.
It was a difficult decision for us to not attend Let's Play Hockey Expo in St. Paul this year because we are so busy. After careful review we decided that new customers would be just as happy if we passed on the savings to them directly. We have done this with a special one time coupon, LPH1603 which customers can use on our web site to save 35% of the cost of acquisition.

Robert Heller, CEO
In recognition of the benefit the company has enjoyed from attending the show the company is offering a one time discount of 35%, including free shipping, passing on the cost savings directly to the consumer. This offer is only available on the company's website and must be exercised before March 31st 2016.
In addition, the company is re-instituting it's very successful active military and active first responders purchase advantage program. More information is available on the company's web site.
Share: